Our vineyard and cellar at the heart of Bouzy Terroir
The village of Bouzy is at the heart of the history of Champagne. Our ancestors quickly seized and measured the quality of the soil and climate of Bouzy terroir. For centuries, Bouzy's slopes grew vines and wines.
Bouzy village lays at the south versant of the "Montagne de Reims". This wooden hill (280m high) is surrounded by vineyards. Its south slopes has chalky soil and sunny exposition : it provides the best condition to grow grapes and especially Pinot Noir. Since the Middle Age, the wines from Bouzy built their reputation of quality on the Kings' tables. Bouzy is a "Grand Cru" village, as only 17 villages in Champagne (on a total of 300 villages in the area of production of Champagne).
Bouzy is also especially renowned for its Pinot Noir : the soil and climate of the village provides the best conditions for the blooming and blossoming of this delicate varietal. That allows us to produce a famous Red Wine, the "Bouzy Rouge" and a stupefying Champagne Rosé.
We cultivate 5.5 hectares, 70 % in Pinot Noir and 30 % in Chardonnay. The average age of our vineyard is 35 years. Our vineyard is divided in 18 plots, all scattered all over Bouzy terroir. The smallest plots are only 0.03 hectares. Up the hill, near the wood, we have the "Nonicart" and the "Crans". At mid-hill, at the very heart of Bouzy terroir, we have 10 plots, with different sun expositions ("Grelons", "Petits Bois", "Chantrennes", Cercets" etc) . Down hill, we have our larger plots ("Les Muits" and "Les Monts des Tours"). This repartition of our vineyard is an asset : we enjoy all the specificities of the terroir, we benefit from all the soil compositions and sun expositions.
Each of our plot is like a member of our family. We provide each of them the best cares. We encourage the shy ones and we congratulate the brave ones. We always take care of not offending them.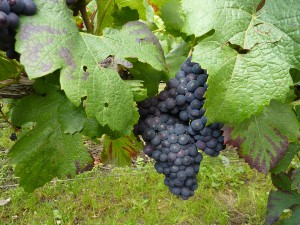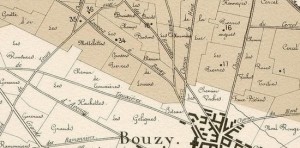 Our cellar, dug under our house, dives into the chalky soil of Champagne. It is the perfect shelter for our heaps of bottles, that stay laying and ageing there for at least 4 years, before being put on the riddling racks. Whatever the temperature outside, it is always 10-12° C in our cellar, thanks to this chalk.